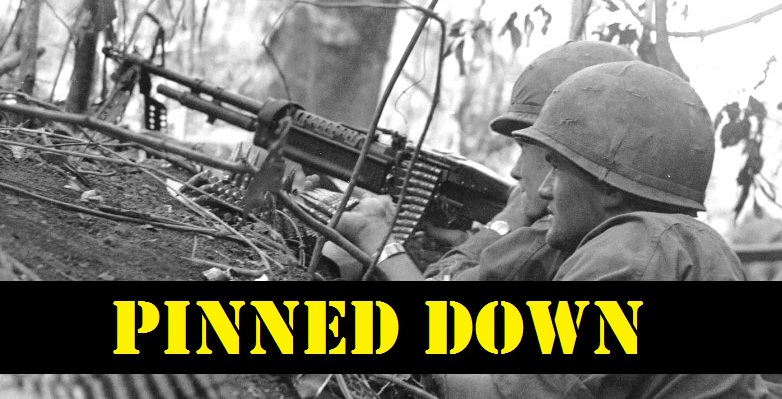 To bring the live "Rough Cut Men" Movie Experience to your church, brigade, battalion, or business, check the links at the end of this article.
Or use the "Contact Us" page at www.roughcutmen.org
I'm a Christian man. I'm a follower of Jesus, a husband and a dad. I'm also the director of an international speaking ministry. And I'm tired of getting my butt kicked by the enemy.
Every single morning for a while now, I get up praying that today will be better than yesterday. I do my best to talk myself into being positive and all it takes is one deviation from a "good day" for me to turn into Johnny Raincloud. It's not like I don't know what to do. I pray, I ask God to help me and I certainly have the faith to know that He's there, and that He cares.
But deep down inside, I wonder how I got here. How did I get to this place where I don't even want to get up again. After all, every time I get up, I just get pounded, so it's easier to just stay down. You know what I mean? Just when the budget is right, the refrigerator dies. Or just when I think I'm doing things right by my kids or my wife, it goes south. And suddenly, apathy becomes the new normal.
And the worst part of all? In spite of my gift of building men up, I have been unable or otherwise incapable of self-diagnosing why I'm in this hole.
That is, until I was speaking with a good friend, a young Chaplain in the Army, and I was finally able to verbalize what I've been feeling.
No, it isn't apathy nor is it defeat. I'm just plain sick and tired of getting shot at by the enemy. I'm angry about it. I'm righteously indignant even. I'm on this mission, and every time I am ready to move forward, that sniper fires a shot at me from the treeline and I duck back down into my foxhole of apathy. At first, I would fight back. But after a while, I expected to receive harassing fire, so I stopped moving. Even my battle buddy is down, so there's no covering fire either.
I have this friend named Will Parish. Will was drafted into the Army in 1963 and served 2 years…and 4 days. Those last four days, SP4 Parish was a machine gunner with Charlie Company, 1st Battalion/7th Cavalry Airmobile in the Central Highlands of Vietnam. He is one of the guys from the Battle of Ia Drang made famous by the movie We Were Soldiers.
Will isn't a fan of being called a "hero". He'll tell you that he "just did my job". But SP4 Parish did something pretty epic. He says he doesn't remember much about the night that his foxhole was about to be overrun by the enemy, but he does recall thinking, "I don't even know these guys and they're trying to kill me" and "Aren't they ever going to run out of people?" By the way, at the outset of this 3-day battle, our guys were outnumbered about 5 to 1.
It was dark, and Parish and his ammo man were on the backside of the LZ (Landing Zone). The major part of the battle was behind them, and Parish had placed trip wires attached to flares across the treeline in case the enemy approached the clearing where their foxhole was.
Suddenly, those little trip flares started lighting up, so Parish started unloading his M-60 at the treeline. Sure, he doesn't remember much that happened after the first expended shell ejected onto the ground. But, by the time it was over, Will Parish had killed over 100 enemy soldiers. When I asked him how he did it, he simply said:
"I just kept firing until the enemy stopped coming."
It's time for me to view this battle in my life differently. I have this enemy who wants to "steal, kill and destroy" (John 10:10). Satan may be an expert at demoralizing me, but he's outgunned, outmanned and destined to lose. Period.
The Bible says "Greater is He who is in you than he who is in the world." (1 John 4:4)
I'm turning this feeling of defeat into pure, unadulterated soldier power. The same power that raised Jesus from the dead lives in me (Romans 8:11). I'm not going to stay down any longer. You can shoot at me, but you won't kill me. You can rattle me with noise, but no weapon forged against me will prosper (Isaiah 54:17).
I'm mad, and I'm not going to take it any more. I'm going to keep firing. I am a soldier in the army of the Most High God.
Lock and load!
BOOK DAVID TO SPEAK TO YOUR MEN —> HERE
FOLLOW DAVID ON FACEBOOK —> HERE
David Dusek is founder and director of Rough Cut Men Ministries and author of Rough Cut Men: A Man's Battle Guide to Building Real Relationships With Each Other and With Jesus. Rough Cut Men has been presented to NASCAR teams, at West Point and the U.S. Naval Academy, at military bases around the world and at hundreds of churches and men's conferences of every denomination. To find out more about the Rough Cut Men, or to book David for an upcoming men's event, please check out roughcutmen.com.