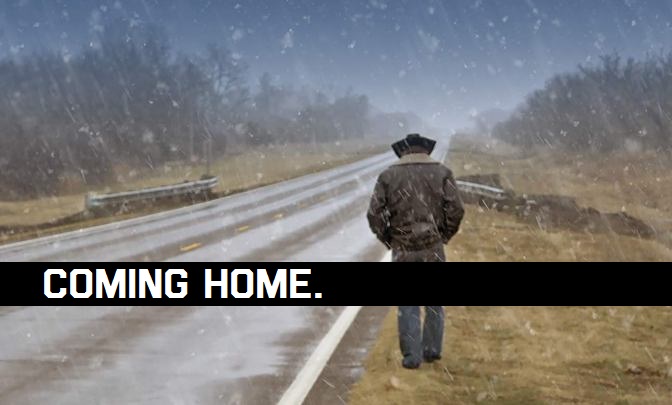 He grew up in Christian school. He attended Youth Group every Wednesday and church every Sunday. Two days before his 18th birthday, he packed his things while his parents were at church and left. No note. No phone call. Just an empty bedroom. Gone. In the coming years, he would live in multiple states, sleeping on couches and spending the small amount of money his mother had left him before she passed away in 2009. He walked away from his family, and from God. His distance from God slowly grew to disdain, and then outright rebellion against Him. He met a girl and she became pregnant. Suddenly his world went from one person to three, and they struggled to keep their heads above water. Committed to each other, the two young people married and focused on raising their little girl, in spite of having no real place to call home.
Finally, they found a place to live permanently. Or so they thought. Then their world again fell apart, through no fault of their own, and they found themselves looking for a new home. But this time it was different. You see, this young man is my son. And about a year ago, we reconciled all of our collective differences and he became one of my best friends. In the midst of their deteriorating housing situation, they would come over a few times each week. My wife and I encouraged my son to find a new job, and he did. All he needed was one small victory to see his own potential. They moved into our house, short term, at the beginning of December. For the first time in years, we had an excited 4-year-old in the house on Christmas morning. In truth, we had really only seen her about a dozen times over the first three years of her life, so it was a joyful time in our home. Since we both work from home, my son and I spent our days sitting across the dining room table from each other, working on our respective laptops.
They found a home in South Carolina and just recently relocated. Honestly, it's left a bit of hole in our world because we'd grown accustomed to our granddaughter talking up a storm at 7:30 every morning over chocolate chip pancakes. I miss seeing my son across the table from me, but I know God has a plan. The entire time they lived under our roof, we did our best to show the love of Christ, in spite of all of the past battles.
On the final Sunday that our extended family lived with us, they came to church. They'd been coming regularly, but we were still always a bit shocked to get a "Yes" to our weekly invitation to join us. We drove separately to church that morning, because the kids had to say a few "Goodbyes" to other family members before heading north for the foreseeable future. On the way to church, his wife began feeling sick. The closer we got to church, the worse the nausea got. We were unaware of what was happening in the car behind us, but when we arrived in the parking lot of the church, my son ran over and nearly collapsed in my arms, sobbing.
"I didn't know what to do", he said between sobs, "so I put my hand on her back and asked God to take the sickness away". Then he whispered into my ear, so as not to be heard by his wife, "She just got out of the car and said, 'I beat it', but I know it was God." Now running late for service, we walked quickly into the building and found a place to sit. As we stood for worship, my son and his wife both sat in their seats. My son was crying. His wife leaned into him and said, "For the first time in a long time, I feel hope." As our pastor brought the message, which happened to be the beginning of a month-long series, the final Scripture was displayed on the screen…
"They will be able to place their hands on the sick, and they will be healed" –Mark 16:18b NLT
I casually threw an elbow into my son, and he looked up and smiled. It was that day that my son rededicated himself to Jesus. He had indeed come home. Sitting right beside him, his wife handed the Lordship of her life over to Christ. And that afternoon, instead of watching cartoons, all three of them sat on the couch and watched VeggieTales videos (on VHS tape, old school style).
My son even went to my Tuesday night small group. On the way through the door, I cautioned him that they may ask him to talk and I assured him that I would "deflect and absorb" so that he didn't need to speak. "I'll talk about everything", he commented. And believe me, he did. As he recounted every detail, he concluded with a statement that I will never forget. "You know", he said, "I've done a lot of people dirty. I've done horrible things to people and abandoned them without warning. I would get tired of rules, and just move on to the next house, starting with his." He pointed at me as he brought his story to a close, "And the one I treated the worst is the only one who was willing to welcome me back. It didn't matter what I had done, they just let us move in. My Dad showed me who God really is by forgiving me and opening the house up to my family."
Know this. Prodigal children do come home, so get that robe and ring ready. Our job is to love them until they do. And when they do, no words need to be spoken. Just love them. God will handle the rest, because He wants them back more than we do. He loves them more than we can.
I guess you could say that both God and I got our son back. And all praise goes to our mighty God.
"Love is patient, love is kind. It does not envy, it does not boast, it is not proud. It does not dishonor others, it is not self-seeking, it is not easily angered, it keeps no record of wrongs."
— 1 Corinthians 13:4-5