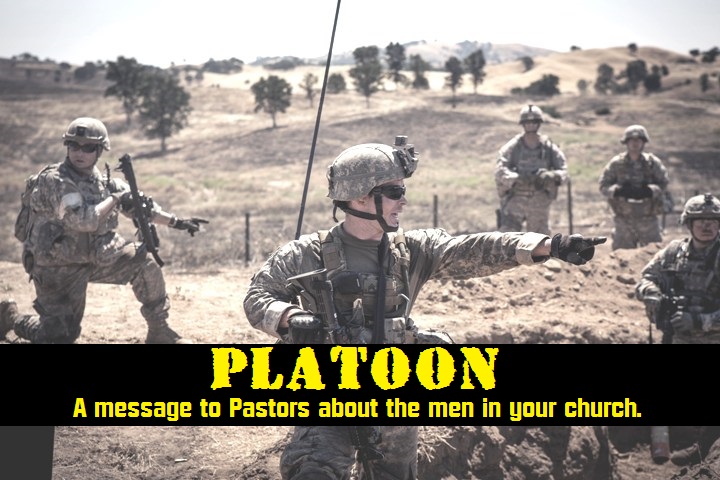 Platoon: A Message to Pastors about the Men in your Church
There's a joke that's been flying around the enlisted ranks in the Army for decades: "If you want to get the platoon lost, give the map to the LT" (no offense to my Officer friends!). In other words, they think all that head knowledge of their Platoon Leader LT is no substitute for combat experience — and typically, the senior NCO (Platoon Sergeant) is the guy on the team who's actually been "real world". In the eyes of the enlisted guys, the LT will often over-think, over-analyze and over-process the situation until they're way off course and usually lost. Then there's that seasoned NCO, who's probably seen it all, heard it all and pretty much done it all. He's intimately familiar with the personalities of the guys in the platoon, usually because he's been one of them. Actually, he IS one of them.
You know what? The same thing is happening in the church every single week. Every. Single. Week. Over the past few days, I've received no less than ten different e-mail replies from men's leaders who are attempting to bring the live "Rough Cut Men" men's event to their respective churches. And in every instance, while the wording may be different, the challenge is the same. The pastoral staff is over-thinking, over-analyzing and over-processing. Budget, timing, logistics or details have become a "choke point", stalling any forward movement. And the platoon of men is stuck in park.
Now, before you get all up in arms thinking I'm going after pastors, I believe that you have one of the most difficult jobs on the planet. It takes some serious skill to keep all those plates spinning without dropping one or two on the floor. Sure, you may have some support people, but at the end of the day, the onus of leadership – and the success or failure of the mission — falls directly on the pastor. Just like a Platoon LT.
But here's the deal, Pastor. You have a man in your ranks that is dying to lead men. Every morning, he gets up thinking of ways to engage the men around him. He reads books, studies the "terrain" and has a truckload of life experience. You have to admit that any man who wants to lead men's ministry is sort of a cultural paradox. Everything that this on-fire guy wants to do in the church is completely countercultural to the world. His mission is to see the men around him living Godly lives, holding eachother accountable, praying for eachother and serving the Body of Christ. That sounds like a heck of a mission to me. And a worthy calling.
And guess what? That man who is attempting the nearly-impossible task of leading your ministry to men likely isn't a theologian. No, most men's leaders don't have multiple seminary degrees, nor can they wax poetic about Paul's Epistles in the original Greek language. Why? Because it doesn't matter when the men in your church are getting killed by pornography, bombed by financial trials, trying to correct marital flatspins, and struggling with prodigal children. Sure, the guys need to hear God's Word on Sunday and that's your primary mission. But until they're hanging out with other men who have "spilled the same blood in the same mud", nothing is going to change. That's your men's leader's mission.
So let him lead. He's not trying to take over your church or steal your men. He's not going to bring someone in to speak to your men who will compromise your theology or hijack your tithes and offerings. This guy is your Platoon Sergeant. He knows the terrain, he's intimately familiar with the men in your church, and he is probably in the midst of a battle just like they are. He has solid tactical "combat" experience, and the men trust him to get the job done.
The men in your church are the spiritual leaders of their families, your church and your community. When they're spiritually on target, everybody wins — marriages are better, attendance and tithing increases, and children are handed a Godly legacy worth following.
The longer you hold up this passionate men's leader's mission, the more your men are going to struggle. Some will leave, some will die on the "battlefield of life" and still others will just sort of vanish. Leading a men's ministry takes a special breed, and he's standing next to you waiting for marching orders. If you keep putting it off because it's "just one more thing to do", you may also lose that driven and battle-hardened "NCO".
So pass him the map and the compass, and let him "take point". Give him the resources he needs and let him fight for your men!
The lives of the men in your church are hanging in the balance. Let him lead.
To bring the live "Rough Cut Men" Movie Experience to your church, brigade, battalion, or business, contact us HERE.
FOLLOW ROUGH CUT MEN ON FACEBOOK —> HERE
David Dusek is founder and director of Rough Cut Men Ministries and author of Rough Cut Men: A Man's Battle Guide to Building Real Relationships With Each Other and With Jesus. Rough Cut Men has been presented to NASCAR teams, at West Point and the U.S. Naval Academy, at military bases around the world and at hundreds of churches and men's conferences of every denomination. To find out more about the Rough Cut Men, or to book David for an upcoming men's event, please check out roughcutmen.org.